Fair Society, Healthy Lives (The Marmot Review)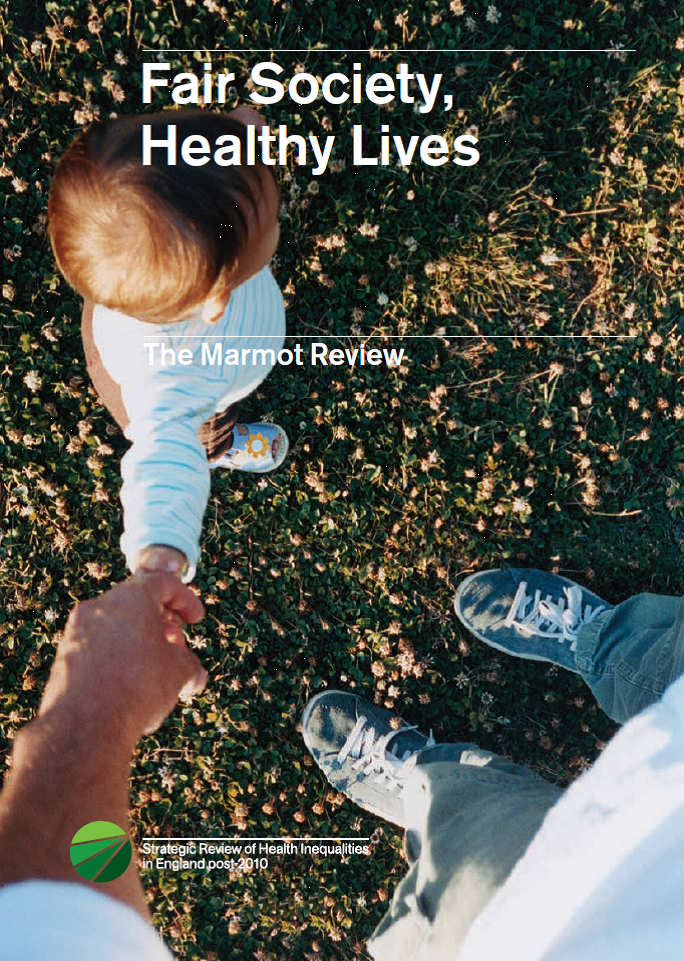 Fair Society, Healthy Lives (The Marmot Review)
Fair Society Healthy Lives - Exec Summary PDF
Fair Society Healthy Lives Full Report PDF
Summary
In November 2008, Professor Sir Michael Marmot was asked by the then Secretary of State for Health to chair an independent review to propose the most effective evidence-based strategies for reducing health inequalities in England from 2010.
The final report, 'Fair Society, Healthy Lives', was published in February 2010, and concluded that reducing health inequalities would require action on six policy objectives:
Give every child the best start in life
Enable all children, young people and adults to maximise their capabilities and have control over their lives
Create fair employment and good work for all
Ensure healthy standard of living for all
Create and develop healthy and sustainable places and communities
Strengthen the role and impact of ill-health prevention.
The full report and executive summary are available above. Related documents are available below:
Economic Costs:
To mark one year since the publication of 'Fair Society, Healthy Lives', the Marmot Review Team and the London Health Observatory produced baseline figures for some key indicators of the social determinants of health, health outcomes and social inequality that correspond, as closely as is currently possible, to the indicators proposed in Fair Society, Healthy Lives.
Whenever possible, the Institute will continue to produce updated indicator analysis, and have produced them in 2014, 2015 and 2017.
In February 2020 The Institute published with The Health Foundation: 'Health Equity in England: The Marmot Review 10 Years On',  to examine progress in addressing health inequalities in England and to propose recommendations for future action.
We feel it's the right time for the social determinants of health approach to become the foundation of global and local health policy. We've made significant in-roads, as we see politicians of all major parties in England, and practioners from all over the world embrace our evidence and plans for action. You can help us to build our capacity to do more by supporting us.